Buying Car Mats – What are The Options?
As a car owner it is always a good idea to protect the interior carpets of your car with a set of car mats.  This will ensure that the interior carpets are kept pristine, helping you to maintain the value of the car.  It's also the cheapest way to enhance the look of your car interior.  So, when looking for new set of car mats, what are the options?
Universal Car Mats – these are a universal, one shape fits all set of car mats.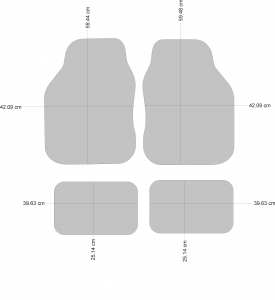 Pros:
Cheap – A set of 4 mats is available from £8.99
Availability – This type of mat can be purchased form hight street stores and markets.
Cons:
Black Only – no customisation options / colour choices
Not Perfect Fit – will not fit the contours of your car as they are a universal shape.
No Fixings – these mats are not designed specifically for your car and do not have the fixing clips to keep the mats secure.  This is a very important point to consider!   Car mats that are not secured have a tendency to move and can ride up between the pedals and interfere with the braking and controls of the car.  This is very dangerous.   All modern cars have fixing clips in at least the drivers mat to keep the mat secure.  It is advisable to buy car mats manufactured specifically for you car.
Tailor Made Car Mats / Vehicle Specific Car Mats – these are designed by the Car Manufacturer to perfectly fit the contours of your car floor and remain securely in place, using the manufacturers fixing system.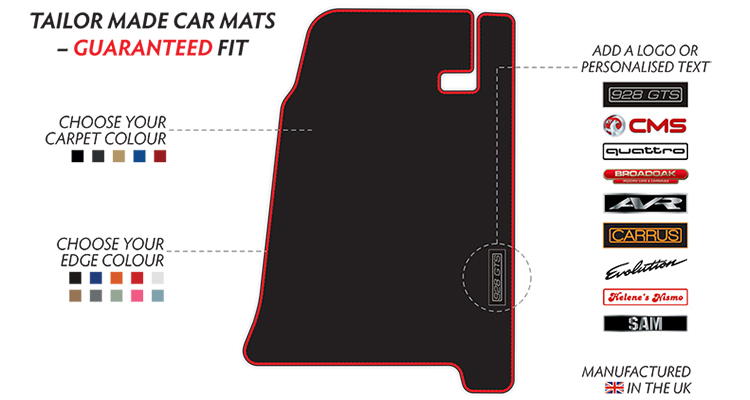 Until recently,  this type of product has only been available from Main Car Dealers.  Main dealer mats have traditionally been very expensive and can also take many weeks to arrive.    Shockingly – most new cars are no longer supplied with car mats!
We now manufacture exact copies of theses main dealer mats, as an after market product, at a fraction  of the price of main dealer mats!  Each set of car mats is manufactured to order and we are able to provide a unique level of personalisation as a part of this manufacturing process:
– Choose from four qualities of carpet or rubber
– Choose from a range of contrasting cloth and leatherette edges
– Choose to add Personal Text
– Add a Logo from our selection or provide your own logo
– Add a Club Patch
Pros:
Perfect Fit –  the mats are designed specifically for your car and fit its contours perfectly
Fixing Clips – the mats come with fixing clips specially for your car, ensuring that the mats remain securely in position.
Customisation – the mats that we manufacture can be customised to order.
Rapid Delivery – car mats are manufactured and shipped within 3 days.
So, in a nut shell.  Tailored Car Mats are by far the best option for your car.   These mats are available from our web site, Manufactured in the UK to the exact specifications of the original main dealer mats – but at a fraction of the cost.
In addition, our car mats are fully customisable.  We offer the widest range of carpet colours and contrasting trim options in the UK.
We also offer the ability to add custom text, company logos or official 'sew-on' club patches to your mats.
For classic car restorations, exotic cars, kit cars, motor homes and vans, we also offer bespoke manufacturing service.  We can make any car mats or interior liner by working to your paper template.